Robert E. McKee MASTER BUILDER

by Leon C. Metz


Edited by Nancy Hamilton
Typography, Design and Computer Graphics by Louis B. McKee
Published by the Robert E. and Evelyn McKee Foundation

Copyright © 1997
Robert E. and Evelyn McKee Foundation
Library of Congress Catalog Card Number: 97-76589
International Standard Book Number (ISBN#): 0-9646793-1-0
(Limited Edition of 1,000 Copies)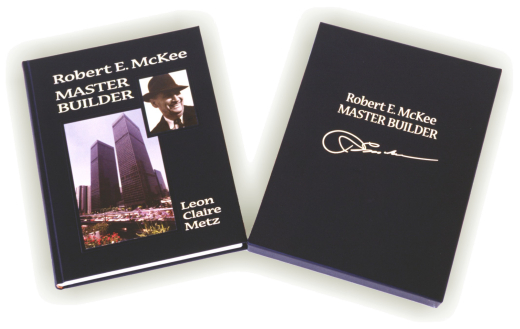 Price - $59.95, plus the cost of packaging and shipping.

Also Available:
Audio Production of the Published Book - 6 CD Set
Price - $59.95, plus the cost of packaging and shipping.
PDF eBook of the Published Book - CD
Price - $20.00, plus the cost of packaging and shipping.







Robert E. McKee MASTER BUILDER is a limited first edition (1,000 copies), slip cased, hard cover, 8 1/2 x 11 inch, 412 page color printed book containing 337 photographs and illustrations, end notes, an introduction, a bibliography, acknowledgments, and an index.

This biography published by the Robert E. and Evelyn McKee Foundation went on sale for the first time with a signing by the author on Saturday, January 17, 1998 at Barnes & Noble in El Paso.

Orders will be received in writing at the foundation office at 5835 Cromo Drive, Suite 1, E1 Paso, Texas, 79912-5501 (P. O. Box 220599, E1 Paso, Texas 79913-2599) or by - Phone (915) 581-4025; Fax (915) 833-3714 and E-mail. Books will also be available at Barnes & Noble in El Paso, Texas or by special order. Any profits which may be derived from the sale of this book will become assets of the Foundation.

Reviews
March, 1998
El Paso Scene - Page 30
"2 tales of impressive El Pasoans"
"Robert E. McKee – Master Builder," by Leon Claire Metz, published by the Robert E. and Evelyn McKee Foundation, 200 pages, $59.95.
By Myrna I. Zanetell
When astute writing, elegant design, and most of all, an intriguing story line combine, it is almost assured that a book will be a memorable reading experience. "Robert E. McKee – Master Builder" contains all three.

From the beginning, McKee seemed gifted with the ability to seize opportunities and make the most of them. In 1909, the 20-year-old followed a hunch and moved to El Paso, landing a job with the City Engineering Department. For a short period, he also moonlighted as a land surveyor, an occupation that opened his eyes to the ownership and development of real estate.

McKee prospered in the construction business, beginning with home repairs, and later constructing and selling homes. A sharp pencil and a strong sense of dedication ensured that he also got his share of commercial projects.

By now McKee had also found a wife and lifelong partner in Gladys Evelyn Woods, a polished young lady whose father had managed a Guatemalan coffee plantation before settling at the Pass of the North. Throughout her lifetime, Evie maintained Danish, American and Guatemalan citizenships, proof that she possessed a strong mind of her own.

During his first seven years of business, McKee contracted for more than a million dollars worth of construction, and his company expanded into Arizona, New Mexico and eastward into Dallas and Houston.

The fledging construction firm began to take on more commercial projects, building train depots, hospitals and schools. Hotels also became a lucrative part of the business when Conrad Hilton chose McKee to build the Abilene Texas Hotel for the Hilton chain. Additional contracts came for Hilton hotels in Lubbock, San Angelo and El Paso's own Paso Del Norte.

These edifices would only portend great structures yet to come.

Before his death in 1964, Robert E. McKee acted as owner, manager and director of the world's largest private construction company, leaving behind such monuments as the Los Angeles and Dallas-Fort Worth International Airports, military construction at Los Alamos, Tonapah Test Site in Nevada, Hickam field in Hawaii, and perhaps his most elegant and controversial commission, the chapel at the U. S. Air Force Academy in Colorado Springs, Colorado.

In addition to his genius as a builder, McKee was also a man who was determined to enhance the quality of life in his own surroundings.

He frequently participated in El Paso politics and was instrumental in securing a segment of the renowned Kress Art Collection and in spearheading the campaign to create the publicly funded El Paso Museum of Art.

On a national basis, Robert E. McKee will be remembered as a master builder, however, the city of El Paso also honors him as a citizen and humanitarian.

Leon Metz has done an excellent job of compiling volumes of information into an enlightening and enjoyable history of one of El Paso's most memorable citizens. Typography, design and computer graphic efforts by youngest son Louis McKee are clearly the labor of love from a talented man. This magnificently bound book is a treasure to please any collector.

Myrna Zanetell is gallery director of Studio W and a free-lance writer.
El Paso Times LIVING
SUNDAY, FEB. 8, 1998
Books McKee helped mold El Paso 2F
McKee helped mold much of El Paso



By Frank Mangan
Special to the Times
Robert Eugene McKee was a construction superstar. With a unique blend of motivation and vision he literally created the skylines of Houston, Dallas, El Paso, Denver, San Diego and dozens of other smaller cities. At one time during World War II, R. E. McKee General Contractors employed more than 42,000 people.
And it all started in El Paso.
In "Robert E. McKee: Master Builder," author and historian Leon Metz deftly entwines the segments of McKee's life: his family, his rise to the top of America's construction business and the inside workings of his corporation. The results are fascinating.
McKee was born in Cook County, Illinois, on June 15, 1889. His family migrated to St. Louis. When McKee was 10, his father was killed in an accident. Young Robert pitched in to help support the family. He picked rags, sold bones and peddled junk found in streets and alleys.
A decade later, McKee was working for his uncle as a cowhand in the tiny hamlet of Elk, N.M., near Cloudcroft. In 1908, he helped move a herd of cattle by railroad to El Paso. The town was experiencing one of its early booms and he decided to stay.
He found a job as a draftsman in the city's engineering department. During off hours he moonlighted, surveying for developers. Eventually, he struck out on his own as an independent contractor. He never looked back.
Projects
Here are some of the construction projects of the Robert E. McKee Company in Downtown El Paso.

El Paso Civic Center
El Paso National Bank (now JPMorgan Chase)
State National Bank (now Wells Fargo Bank)
El Paso Natural Gas Company (now the Blue Flame and Paul Kaiser Buildings)
Hilton Hotel (now the Plaza Hotel)
U. S. Courthouse

They had eight children, some of whom would join the business.

Over the next 50-plus years McKee built more than 3,000 projects in El Paso, nationally and overseas. He literally changed the look of our city, building the Hilton Hotel, Bassett Tower, the two El Paso Natural Gas Company office buildings, the U. S. Courthouse, several buildings on the UTEP campus and Austin High School to name a few.

From 1937 to 1939, the company built the huge train depot in Los Angeles and set up a division office in Los Angeles to handle other projects – like the Los Angeles International Airport. During World War II the McKee organization constructed America's super-secret Los Alamos installations in northern New Mexico.

An avid art collector, he gave the city 62 masterworks from the Kress Foundation. These renaissance paintings hang in the El Paso Museum of Art.

McKee remained active in his company until his death Oct. 21, 1964, at the age of 75. He had directed the largest private construction firm in the world. Two decades later the McKee contracting firm closed its doors.

"Robert E. McKee: Master Builder" is a credit to those who produced it. In this major undertaking, Leon Metz's writing is superb, Louis B. McKee's typography, design and computer graphics treats us to an exceptionally handsome 400 pages.